fullerton tool company
Tools & Specifications
End Mills - Drills - Reamers - Cutters - Saws - Burrs - Countersinks - PCD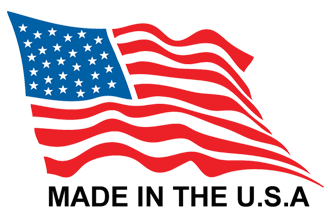 CALL 888.857.6835
Mobile inventory
Same day delivery
View Site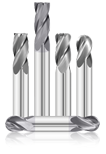 Fullerton Tool offers both an extensive line up of standard and specifically designed end mills. End Mills are a fluted round cutting tool used in milling. They come in a variety of forms with geometry that varies by application and material. End mills are used in applications such as Profiling, Slotting, Plunging and Contouring. Fullerton Tool has end mills for most materials and milling applications.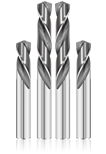 Drills (or Drill Bits) are cutting tools used to create circular holes in material. Fullerton Tool offers a standard selection of solid carbide drills, but also specializes in made-to-order items. Fullerton Tool has specific drill design standards that meet customer requirements for most materials and applications. Whether you are putting holes in a fuselage or fuel injector, Fullerton Tool has a design to meet your needs.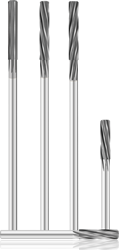 Fullerton Tool is a leader in the manufacturing of Carbide Reamers. Reamers are round cutting tools that enlarge the size of an existing hole, offering high quality of finish and straightness upon completion of the operation. Fullerton Tool has led the industry with its pioneering programs offering next-day service on carbide reamers to customer specs. Fullerton Tool continues to lead the industry by offering tolerances down to .0001 inches and same-day reamers.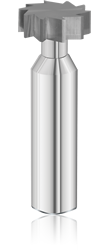 Keyseat Cutters (or Woodruff cutters) are a type of milling cutter specifically designed for cutting keyways. Fullerton Tool offers a line up of industry standard size, solid-carbide keyseat cutters and a just-in-time service of intermediate sizes to meet our customer demands. In addition to standard type offerings Fullerton Tool produces many unique custom cutters in the style of Woodruff or Keyseat Cutters for customer-specific applications.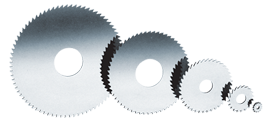 Fullerton Tool is an industry leader in the production of solid carbide saw blades. The 2450 series offers 24-hour JIT delivery on size down thickness (width) from a .2500" to 6" outside diameter (OD) in up to 6 piece quantities. The 2450 series comes in various arbor diameters in relation to their outer cutting diameter. For needs outside of the basic solid carbide type slitting saw Fullerton offers 2455 Series (specialized tooth forms, sizes and counts on our standard blanks) and full blown custom saw blades as well.
Fullerton Tool offers an extensive selection of industry standard and specially designed carbide burrs. Burrs (sometimes called Rotary Files) are rotary cutting tools used in many industries and materials. They are similar in design to end mills and are often used in removing burrs from castings.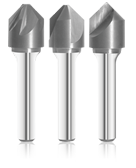 Fullerton Tool offers a selection of carbide countersinks for use in various materials and with various angles. Countersinks are circular cutting tools that allow a manufacturer to cut a conical hole in an object that typically allows the head of a bolt or screw to be countersunk. In addition to a strong selection of standard items, Fullerton Tool also designs carbide countersinks to meet specific manufacturer requirements.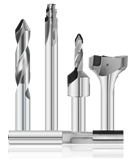 Polycrystalline Diamond (PCD) is synthetic diamond. Fullerton Tool is a manufacturer of various cutting tools that utilize high quality PCD and similar materials. PCD tooling provides superior wear resistance in highly abrasive materials. Fullerton Tool manufactures these tools with solid carbide base tools for superior rigidity and tool life. Fullerton Tool manufactures these items to customer specifications.